"Beauty and the Beast: A 30th Celebration" is a fairy tale come to life. The live-action special, available to stream on Disney+, is a star-studded event, featuring talent like H.E.R. (née Gabriella Sarmiento Wilson) as Belle, Josh Groban as the Beast, Shania Twain as Mrs. Potts, Martin Short as Lumière, David Alan Grier as Cogsworth, screen legend Rita Moreno as the narrator, and more. Speaking with POPSUGAR, costume designer Marina Toybina shares what it was like to work with such impressive names and how she crafted some of the show's immaculate, stunning costumes — more than 300 in total.
"It was such a great experience [working with H.E.R.]," Toybina says. "We just had so much respect and love for each other, and when I finally had the opportunity to share the artwork with her, she was very excited."
"Every single costume had something extraordinary and special about it."
For H.E.R., who made history as the first Black woman to play Belle on screen, her role in the production was an opportunity to showcase her unique personality and Filipino heritage. With H.E.R.'s guidance, Toybina embroidered "Bel" in Baybayin, an ancient Philippine script, along the edges of Belle's apron. "It was just a beautiful touch and something that made the costume that much more special," Toybina says. "I really wanted to find a way to represent her and have that memorable moment."
Inspired by the 1991 animated Disney film — as well as countless stage productions of "Beauty and the Beast" and the 2017 live-action film starring Emma Watson — Toybina set to work constructing a series of outfits that would reignite each character's uniqueness. "Every single costume had something extraordinary and special about it," she says, adding that every outfit was also a labor of love.
In an effort to give each character new life, Toybina experimented with materials, combining up to 15 different kinds of upholstery and nontraditional fabrics to create costumes for characters like Cogsworth and Mrs. Potts. Allowing the unique textiles to speak for themselves, Toybina gave a "beautiful, classical glamour aspect to the entire show" that reflects both the special's 18th-century aesthetic and her personal attention to detail. From beaded evening gloves and shimmering shoe buckles to bejeweled buttons and handmade silicone accessories, every inch of the cast's wardrobe was taken into consideration.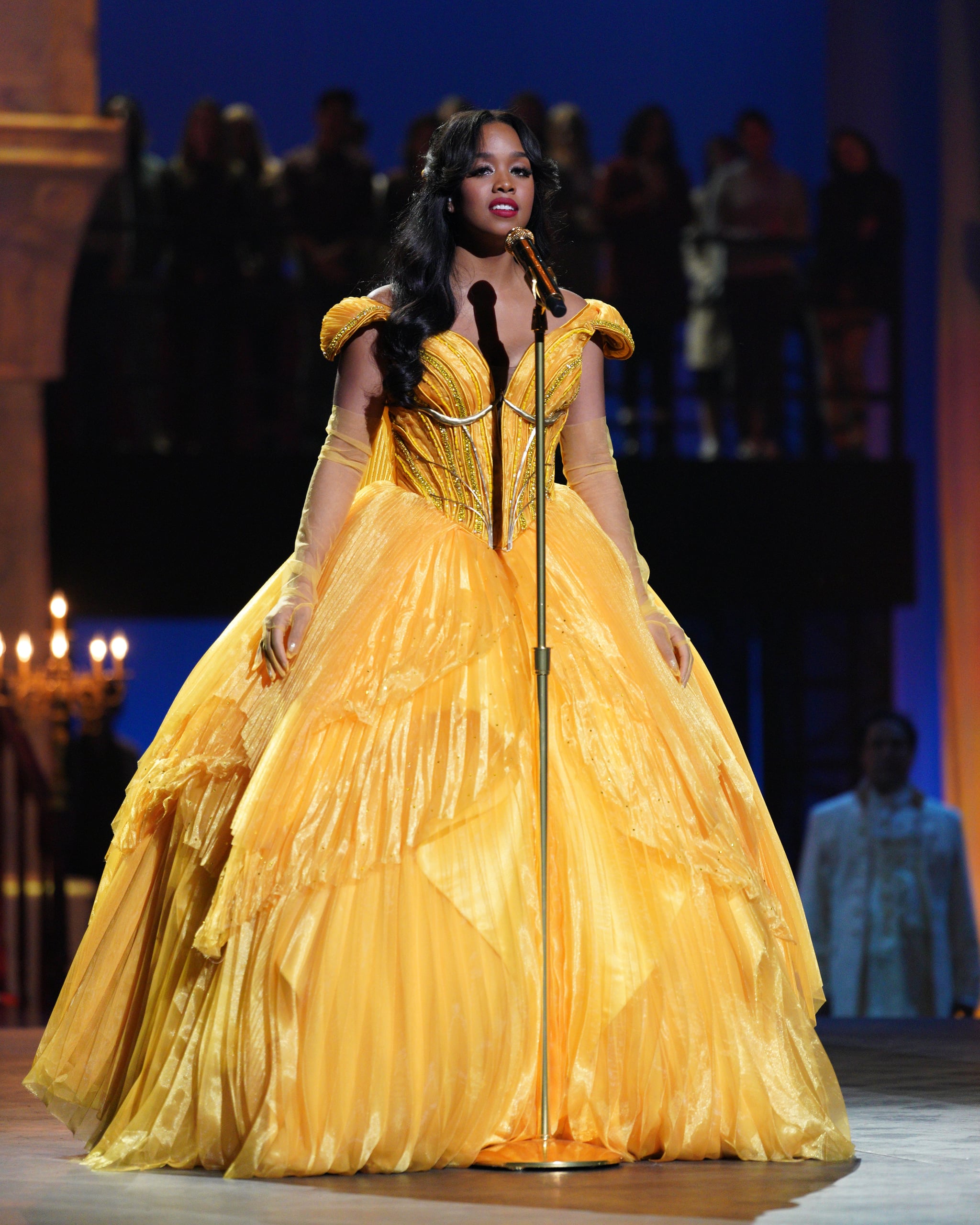 Image Source: ABC / Christopher Willard
While the Beast's costume — which stood at more than 10 feet tall and weighed several pounds — was the most difficult to piece together, Toybina and her team worked most passionately on Belle's showstopper look, which H.E.R. wears while serenading the audience with "Tale as Old as Time" alongside Groban. For the look, Toybina built a yellow-gold ballgown using a hoop skirt layered with a satin base, chiffon, and four kinds of organza. The elaborate ensemble wasn't completed until just hours before the live performance. "Ten-hour days turned into 15-hour days, but at the end of the day, it was very much worth it," Toybina says.
"It's more than a story about having a perfect-ending, fairy-tale moment. It's more about the artist behind the character."
A few minutes into the song, H.E.R. flips away for a quick change, reemerging in a modern version of her character's classic ballgown. The ensemble, which took months to create, features a high-waisted tailored pant set underneath a corset and a pair of yellow-tinted sunglasses, H.E.R.'s signature accessory.
The look also features a custom 1956-style stained-glass Stratocaster guitar inspired by the enchanted rose the Beast keeps encased in glass. "H.E.R. naturally embodies Belle's confidence, creative spirit, and forward individuality, so we knew we had to make a special guitar that could match the uniqueness of both these inspiring women," Fender's Director of Artist Marketing Helena Ngo tells POPSUGAR, adding that H.E.R. kept the guitar as a memento after the performance. "Our talented product teams led charge on this build, leveraging a custom translucent graphic and carefully applying it to an acrylic body to help H.E.R. bring this rock-star princess to life, continuing her legacy of inspiring the next generation of guitar players."
As much as the ensemble is a tribute to Belles of the past, Toybina notes that the final pantsuit is also a nod to H.E.R. and the originality that she brings to the stage. "At the end of the day, I think the transition was more [about] having her shine her own light," she says. "It's more than a story about having a perfect-ending, fairy-tale moment. It's more about the artist behind the character . . . I think what makes it so special is that, at the end, we convey that H.E.R. is a beautiful artist."
Ahead, take a glimpse at some of the cast's stunning outfits from the "Beauty and the Beast" 30th anniversary special.